William Sieruta is a painter from Amherst, Massachusetts. He is currently an MFA candidate at the School of the Art Institute of Chicago.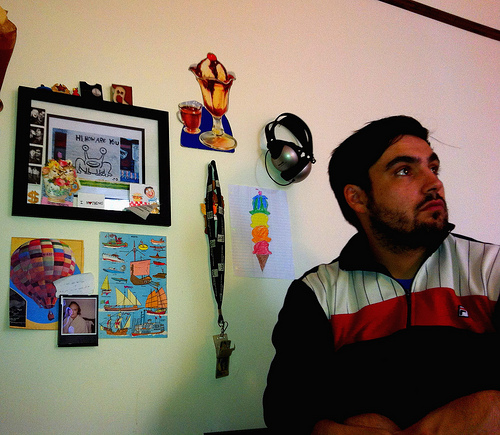 Tell us a little bit about yourself and what you do. I'm Will. I'm a painter and I make pictures. Some friends and I have a side project called Murdertown, which is an "alternative space" in Logan Square that organizes exhibitions, hosts weird quasi-art related events and puts out publications.
What materials do you use in your work and what is your process like? I paint from my memory and imagination with oil paint. The paintings usually start out from a simple idea about a shape or a group of colors, but at the beginning my conception of the end product is vague. I like to keep it open and active, that way I can change my mind at any point and not really feel like I've lost anything. I'm more interested in making pictures I discover through the process of painting rather than just converting or translating images that already exist into paintings, which seems pointless.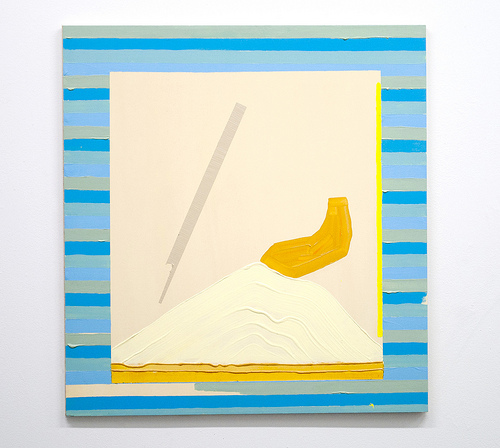 What are some recent, upcoming or current projects you are working on? I recently did a show with Autumn Space Gallery called "An Extraordinary Ordinariness." I installed sixteen paintings that I made this spring. Since then I've been working on a new series of these hybrid "painted-sculpture paintings". I'm excited about the project because it's sort of getting out of control and really silly. I'm beginning to have no idea where it's going, which could be a good thing. It's hard to explain verbally because I'm figuring out what I want do with these things and I can't determine exactly what they are or how I want them to exist. I'll show them in Chicago in the winter or spring.
How did your interest in art begin? When I was a kid, my brother and I would tape together a dozen sheets of copy paper and draw huge panoramic pictures of robots, monsters, baseball players, our friends, etc. in giant war scenarios. We basically combined everything that we really liked (or really hated) into one impossible image. So I think pretty early on I knew art was a way i could improve reality or at least try to circumvent it. Since then I've sat through a lot of lectures and my conception of art has "developed," but the part I like best is fundamentally still that basic. The time I spend making pictures is better than most of the other stuff.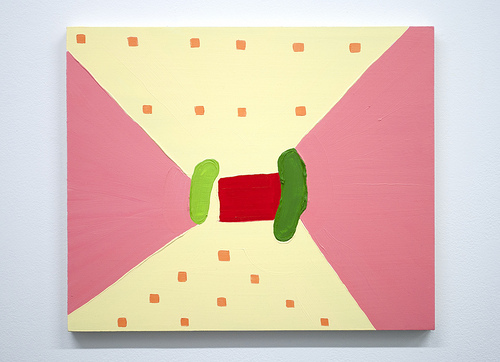 What are your thoughts about the art scene in Chicago? I'm not an expert, so can only comment on my impression of Chicago's art scene. The city is huge, but the "art scene" actually seems really small, and I like that. The stakes are low, so people are more free to try out whatever stupid idea they might have. What is there to lose? Sometimes it leads to something interesting. Other times it leads to more art.
What was the last exhibition you saw that stuck out to you? I loved the Jim Nutt retrospective and its sideshow at the MCA. Definitely the funnest painting show I've seen in a museum. I also really enjoyed seeing Mark Grotjahn's new work up close at Shane Campbell. You can't go wrong with radical monsterface vortex butterflies.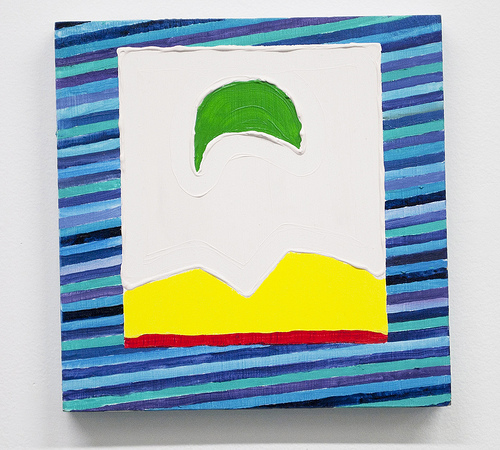 What's your favorite thing about Chicago? 355 days a year the weather here is fucking horrible, but those ten non-terrible days are priceless.
What do you do when you're not working on art? I like to cook Indian food, make terrible music and take long walks on the peach.
If you had one wish what would it be? My wishes are pretty humble. All I really want is to have a decent studio and enough time to make my work. Either that or a solid gold house and a rocket car.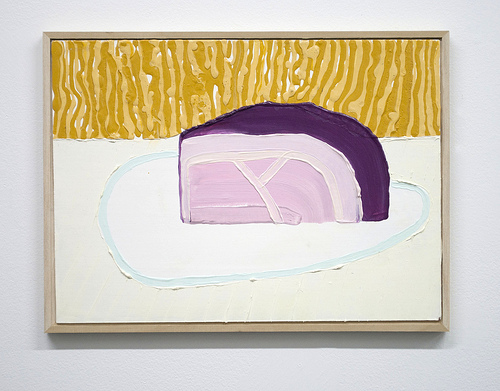 If you hadn't become an artist, what do you think you'd be doing? Well, I have a degree in finance, but I gave all that up to pursue the things that I am really passionate about. Now, if I really couldn't live off my art, I would probably work with food. I really like to cook, so I'd imagine I'd really love to be a chef. I've never worked in a restaurant so that fantasy is based more on what I've seen on Top Chef than on any experience or skill I actually have. Still, chef is probably my best option in terms of a marketable skill that I enjoy doing. I'd either do that or be bank robber.