Stacy Fisher lives and works in Brooklyn, New York.  Her work has been exhibited throughout the East Coast and in Florida, Michigan, Illinois and Tennessee.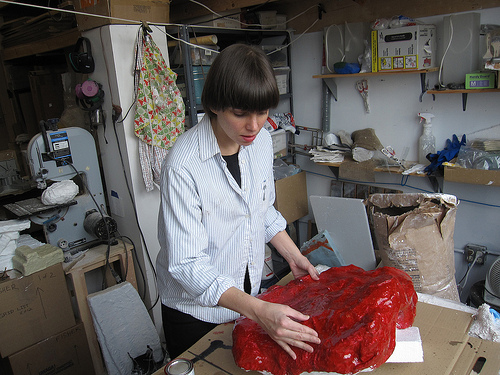 Tell us a little bit about yourself and what you do.  I am sculptor and live and work in Brooklyn.  My studio is just a block away from my apartment in Greenpoint and I get to walk down a beautiful historical street to get there.  I made representational work for several years before switching to abstraction.  This change was prompted by wanting to make smaller work, but also by wanting to let go of content as a knew it in search of something else.  Now that I have been working abstractly for a few years, I can definitely say that I think more about content now than I ever did before.  In trying to push it away, I discovered that sculptures take on roles and references regardless of their shape or size.  Because of this, I pay extra attention to their shapes and sizes, and try to leave room for the viewer to fill in the blanks.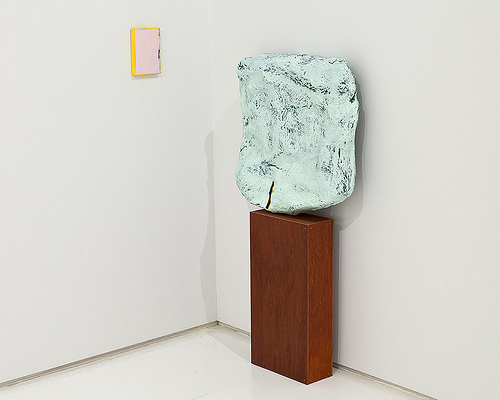 If you had to explain your work to a stranger, what would you say?  I would separate my work into two different series.  In one series, I make groupings of sculptures that appear to have some related purpose.  They are similar in size to toasters or small lamps, and are often described as feeling mysteriously familiar.  The other series is more abstract and more related to painting.  These works consist of relatively flat shapes that hang on or lean against the wall, and incorporate the idea of frames and pedestals.  They have a heaviness that is alleviated through their positioning and "found" color palette.  Some people find my work to be cartoonish, and it's okay if it makes you laugh.
What kinds of things are influencing your work right now?  One thing that influences my work is word play.  I did a text piece for Possible Press last year where I used a function for "predicted text" on my LG cell phone to write a poem.  I liked the idea of limiting my communication to re-mixes of whatever I had said in the past.  Over the past couple of years I have been working with key phrases in mind.  Some of the phrases have become central to a series, like "irregular squares" or "black and white objects".  Others have just been hanging around, like "bring the party."  I think of that phrase when I feel like a piece needs a boost and I am at a loss.  My big word right now is "bunches" so we'll see where that goes.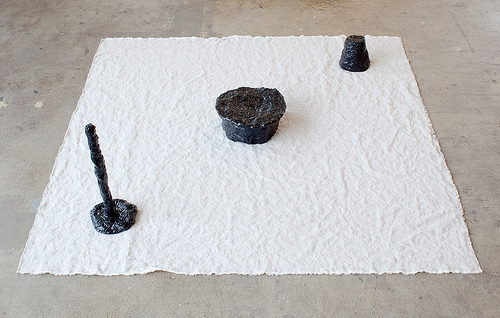 What materials do you use in your work and what is your process like?  I use Hydrocal (a type of plaster), burlap, mire mesh, salvaged/donated house paint, and wood.  I rely heavily on drawings, even for the square-ish shapes on pedestals.  I might even hold a drawing up next to a piece in progress to gauge the ratio between parts or get an angle right.  It's very bizarre to see a drawing come to life in three dimensions, it can feel spooky like déjà vu.
What are some recent, upcoming or current projects you are working on? I am one of ten members of an artist collective called Art Book Club.  We meet at a members' studio every 6 weeks to discuss the book we've been assigned and then participate in a studio visit. It's been a great way to expand my own interests, and even better to have a group of friends to learn from and talk about things with.  We just hosted a public meeting as part of the exhibition "You, Me, We, She" at Fleisher Ollman gallery in Philadelphia, and hope to do more stuff like that in the future.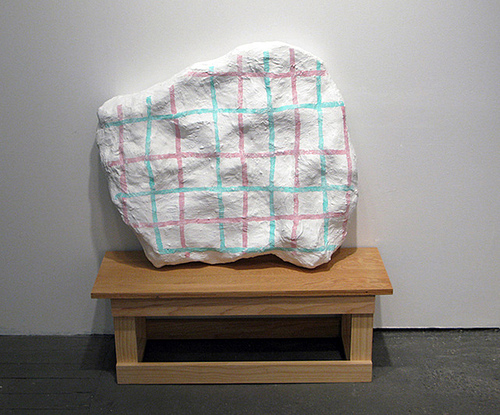 What was the last exhibition you saw that stuck out to you?  It wasn't necessarily an exhibition, but I loved Cleopatra's room at the Dependent Art Fair.  I'm also really mad at myself for missing the Bill Walton exhibition at James Fuentes, I didn't know anything about him, and I guess I still don't.
What's your favorite thing about New York?  New Yorkers.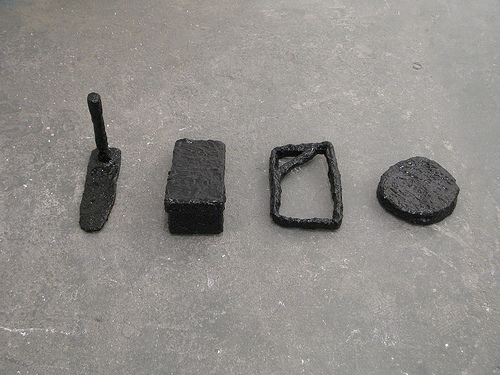 What do you do when you're not working on art?  I like to decompress by watching movies. I'm lucky enough to have one of the last, great independent video stores (Photoplay) in New York just around the corner from my apartment.
What are you really excited about right now?  Zipcar.  Besides it being the only way for me to get 50 pound bags of Hydrocal back to my studio, I really like to cruise around and see what places look like.  It's strange to live somewhere where you rely on underground transportation.  The distance between point A and B can remain a total mystery even though you just came from there.  You can miss out on some cool stuff if you don't drive around, particularly in Brooklyn and Queens.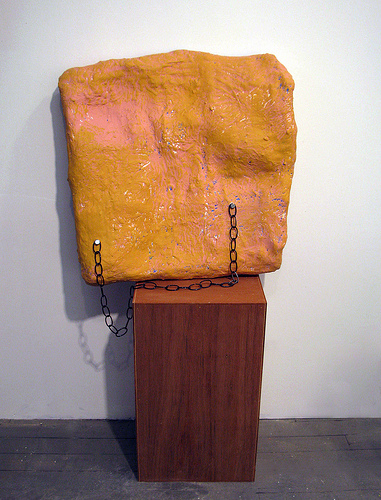 Any current or upcoming shows we should know about?  I'm currently in a group show called "Grid List" at Allegra La Viola Gallery in the Lower East Side.  I am scheduled to have a two-person show with painter Allison Miller at Weekend in L.A. in January of 2013.
Can you share one of the best or worst reactions you have gotten as a result of your work?  A non art-guy at an opening a couple years ago said my "Blue Sculpture on a Pedestal" reminded him of chicken parmigiana.  We talked about it for a while, and in the end it made perfect sense to me.  I thought it was great that he saw beyond how it was painted and the fact that it was in a gallery on a pedestal (not on a plate next to spaghetti).