Sabina Ott lives and works in Chicago, Illinois.  She earned both her BFA and MFA from the San Francisco Art Institute.  Exhibiting since 1985, Ott has participated in over 100 solo and group exhibitions.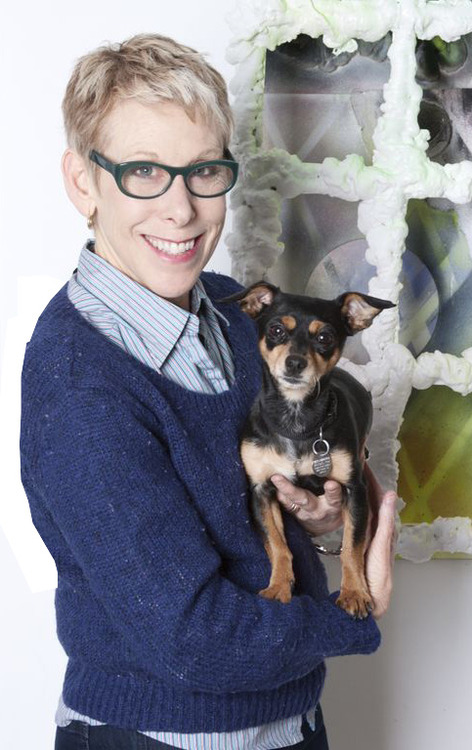 Tell us a little bit about yourself and what you do. I grew up in Los Angeles with New York parents. I am a coastal hybrid. I have been working as an artist and educator (officially) since 1985. I have endurance. Making art and teaching are the only things I have ever done or wanted to do.
What kinds of things are influencing your work right now? Godard films – Two or Three Things I Know about Her in particular. I've been watching and re- watching it. Also, see the answer to "How has living in Chicago affected your art practice?"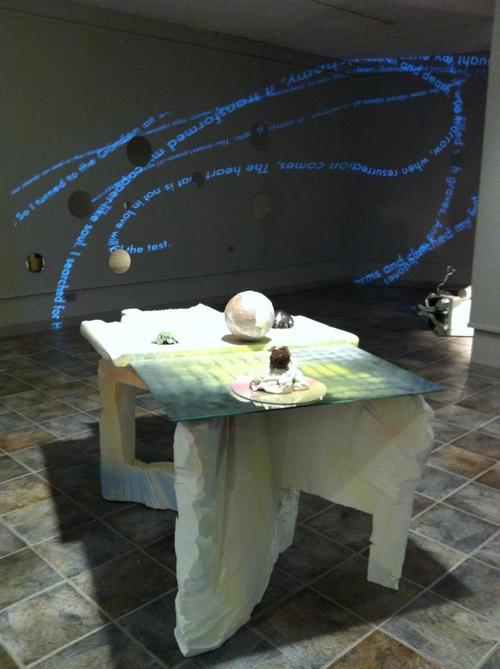 What materials do you use in your work and what is your process like? I have been using Styrofoam, spray foam, canvas, oil, lamp fixtures, clocks and mirrors. I am working on a series of paintings that are sculptures that are furniture and that are ornamental.
How has your work developed within the past year? I have really gone full on into making sculptural object/paintings using building and craft materials. I am also working on a series of mirror paintings. It's my way of making a two-dimensional work that is actually not flat but a deep space, functional and decorative at the same time.
What do you want a viewer to walk away with after seeing your work? Laughter? Confusion? Pleasure? Those are three responses I have to my own work.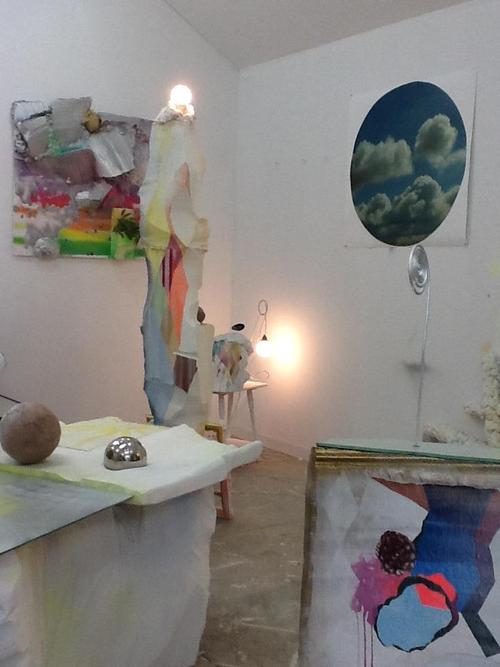 How long have you lived in Chicago and what brought you there? I have lived in Oak Park since 2005 and moved to Chicago area to head up the Art and Design Department at Columbia College Chicago. Now I have the privilege of teaching full time and making artwork.
How has living in Chicago affected your art practice? I love Chicago. When I moved here I felt as though my history had been erased, which is liberating. Chicago encourages my impulse to be home and neighborhood centered, and I have focused on what my friend Chris Kraus calls "Radical Localism." I have leaned into that idea by making functional domestic objects – lamps, clocks, planters, tables and mirrors – and making my home a public art site.
What was the last exhibition you saw that stuck out to you? Lots of things. Michelle Grabners show at Shane Campbells made me feel like I could die happy right then and there. Painting the Void at the MCA was memorable, as was the current exhibition at Document; Christopher Meerdo>Anthology. I love that space and what Aron Gent is doing there. The exhibition at the Elmhurst Museum that Stacie Boris curated, Open House, is a solid show. Alison Ruttan at the Hyde Park Art Center is very good work. The abstraction show at MOMA was perfect. I am making a trip to New York soon to see my most favorite influential artist Jay DeFeo at the Whitney.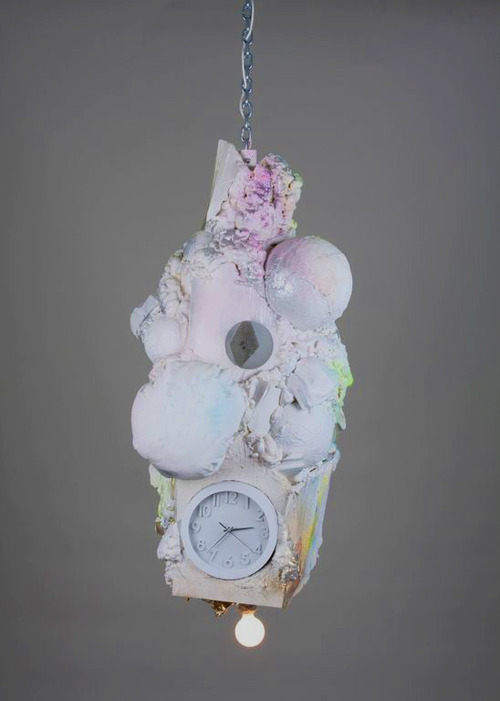 What do you do when you're not working on art? Teach, run Terrain, spend way too much time on Facebook, play with my dog Alice and my husband John. Try to read all the books written on and by Giles Deleuze; that's a tough one, I've made very little progress.
What are you really excited about right now? My work in the studio and Terrain Exhibitions, the project space in my front yard. Its been running since October 2011. Terrain is producing a Biennial this coming September that will take on several sites on my block with at least five artists projects. A block party will serve as the opening event.
Any current or upcoming shows we should know about? I will be showing new work at the Riverside Cultural Center in May along with the work of artists who are important to me for various reasons in the show – Phyllis Bramson, Michelle Grabner, Dan Gunn, Anna Kunz, Michelle Wasson and Joe Jeffers. I am also working towards an exhibition in the Chicago Rooms of the Chicago Cultural Center slated for September 2014 – fingers crossed!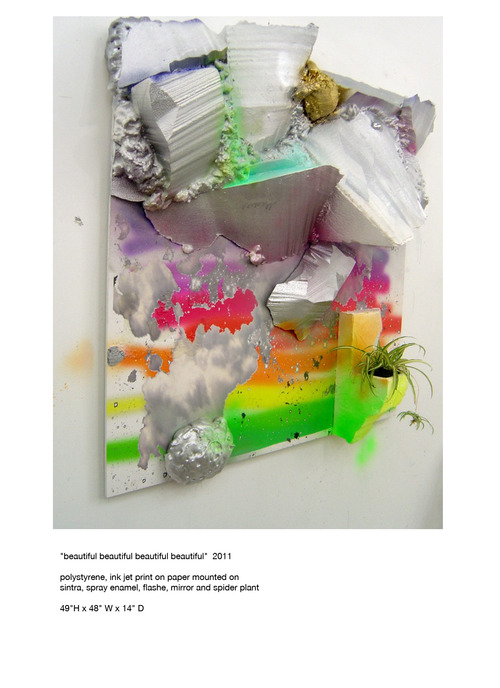 Can you share one of the best or worst reactions you have gotten as a result of your work? I don't know if this is the best or the worst, but I made an installation at the Museum of Contemporary Art Cleveland and I had painted horizontal stripes circling the walls, floor to ceiling and installed a painting, some sculptures and several video monitors. A patron complemented me on fitting my work in so nicely with the decorated walls. She made a lot of assumptions I found interesting.
If you could go anywhere in the world where would you go and why? I've traveled a lot, but I have never been to the Grand Canyon. I want to go to the Grand Canyon. I would also like to go back to live in Alice Springs, Australia for a while. Or Joshua Tree, CA. I am fixated on the desert for some reason lately. I would also like to spend the summer in Paris and make daily pilgrimages to the Louvre.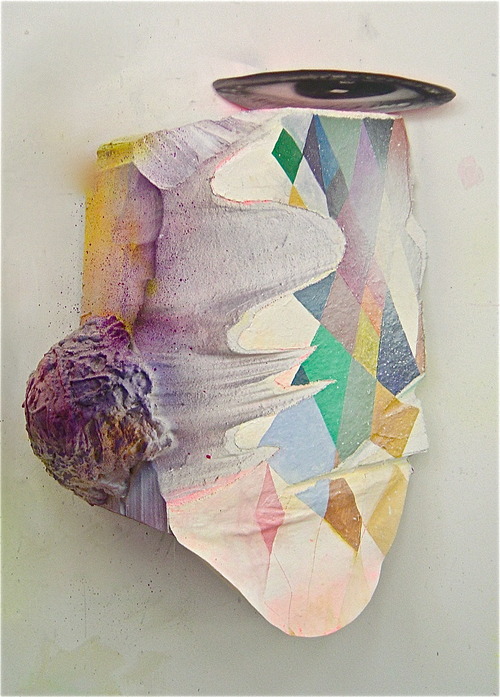 Favorite music? Hindu devotional chants, old school punk like the Ramones, Dead Kennedy's and the Dils. Eric Satie and Claude Dubussy. Devendra Banhart. Bjork. Frank Sinatra. I've been listening to I Fink You Freaky by Die Antwoord a lot.
What were you like in high school? Sad and disassociated, like the character in Joan Didion's Play It as It Lays. I grew up in Los Angeles and spent a lot of time on drugs, at the beach and making drawings and sculptures.
Most embarrassing moment? I refuse to feel embarrassed.