Originally from Oakland,
Ryan Travis Christian
lives and works in the Chicago area.  He received his BFA from Northern Illinois University.  Ryan is an artist, curator and writer.
Tell us a little bit about yourself and what you do. 
Born in 83', I am a 6ft. tall caucasian male living in the suburbs of Chicago, Taurus. I draw a lot, interview fellow artists, curate exhibits, DJ for
Club Nutz
, and have recently started organizing comedy/noise shows.
If you had to explain your work to a stranger, what would you say? 1930's cartoons meets 80's pop design meets suburban white dumb dumb narratives.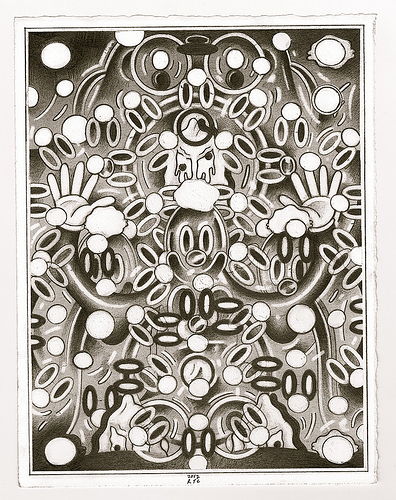 What do you want a viewer to walk away with after seeing your work? My work, or a boner.
What are some recent, upcoming or current projects you are working on? 
I have a show with dear friend and collaborator
Marissa Textor
that just opened in Toronto at
Cooper Cole
gallery. Beyond that, oh hell, group shows here and abroad, a solo in the Hampton's at
Halsey McKay
, then SF at
Guerrero Gallery
, then
CAM Raleigh
, then London… Just released a shirt through
African Apparel
. Working on collaborations with lots of different people which is really interesting/exciting. I'm organizing a massive 100 artists + traveling show with lots of other projects sprinkled in to the mix over the next year and a half. Busy busy.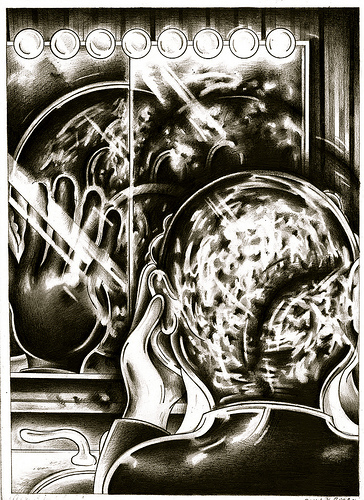 Can you share one of the best or worst reactions you have gotten as a result of your work?  Best: this 8 year old kid had his mind completely blown by my last SF endeavor. He gave me a tour of my own show and mostly described things with explosion sounds and wild hand gestures. He was super pumped, which made me super pumped. Worst: here and there people think it's racist.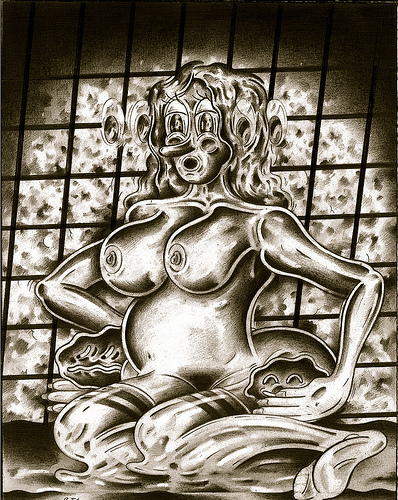 What artists are you interested in right now? 
Tim Bergstrom
,
Sarah Weber
,
Eric Yahnker
,
Marissa Textor
,
Ben Jones
,
Allison Schulnik
,
Bjorn Copeland
, Ub Iwerks,
Eric Beltz
,
Denise Kupferschmidt
, Chris Duncan,
Evan Gruzis
, Eddie Martinez,
Jose Lerma
, Conlon Nancarrow, Scott and Tyson Reeder,
Forrest Bess
, Doug Lussenhop,
Sam Moyer
,
Andrew Schoultz
,
Ryan Wallace
, Adam Scott,
Erwin Wurm
,
Todd James
,
Scott Wolniak
, Elijah Burgher, Max Fleischer, DeKooning,
Larry Bob Phillips
, the list could go on forever.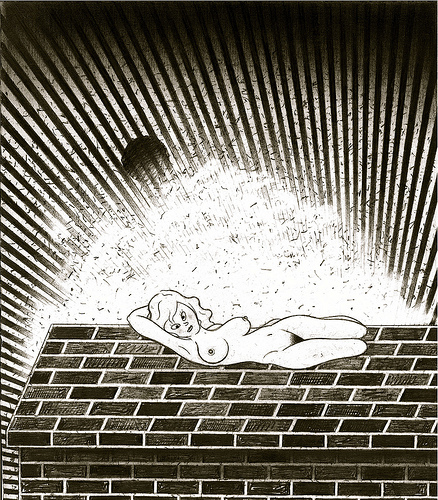 What do you do when you're not working on art?  Sleep, give our cat a hard time, golf. I like websites.
What are you really excited about right now? 
Reggie Watts
, The Eric Andre Show,
Club Nutz
, Prometheus,
Duncan Trussel Family Hour
, MLB, the prospects of summer, Solo @
CAM Raleigh
, new Black Dice Album, traveling, Marcie Oakes.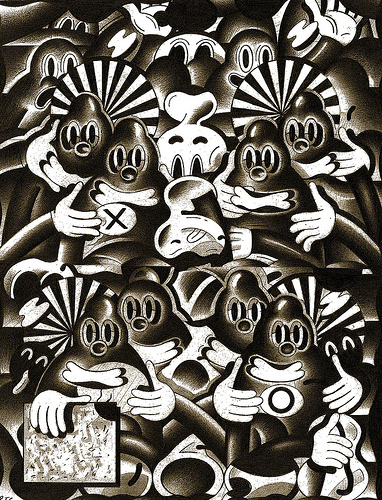 What were you like in high school?  I hung out in the woods a lot and got straight A's.