Josh Reames is an artist based in Chicago. He received his BFA from the University of North Texas and is currently finishing up his MFA in Painting and Drawing at the School of the Art Institute of Chicago. He is also the director of Manifest Exhibitions, a gallery located in a Logan Square basement, and a Chicago correspondent for New American Paintings' blog.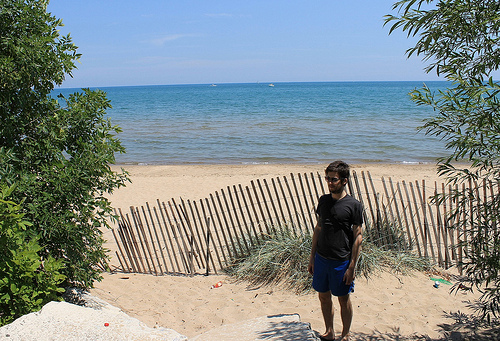 How did your interest in art begin?  Just like every other artist, I liked to draw as a kid. But it wasn't until undergrad at the University of North Texas that I had any idea of the "art world". After finishing my BFA I worked a soul-sucking corporate job for a couple of years. While I was there I realized how most working people have this huge life/work dichotomy, almost like a split personality; I never liked that. I realized that as an artist there is no difference between art, work, socializing, interests, etc. – it's all rolled into one thing. This is incredibly appealing; there are very few lifestyles that are like this. Also, the level of criticality that exists in the art world is exciting; everything is constantly being questioned and re-evaluated – then given some sort of visual form. I've always thought of working as the thing you hate to do but have to just muscle your way through it, so the prospect of having a social-role that involves looking, thinking, making things, and drinking beer – I can't imagine pursuing anything else!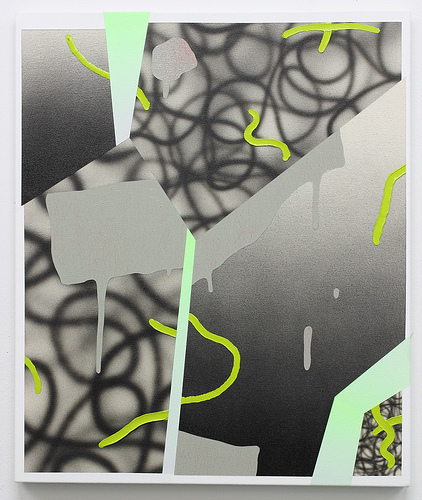 What kinds of things are influencing your work right now?  Tropical sunsets, the ideal vacation, perfect brush-marks, dry humor, bad taste, escapism
What materials do you use in your work and what is your process like?  Lately I've been making paintings using a sort of collage-aesthetic that I'm pretty sure came from my background as a printmaker. It is a shallow surface but with the illusion of depth – almost like a pile of photographs all taken with different levels of focus spread out on a desk. When I first started painting I was making medium to large abstractions that were super labored and layered—they were very fussy. The stuff I'm doing now reflects on bits of the old paintings, except in an indirect way. So instead of painting a line, I am squeezing it out of the tube; instead of loading a brush and dragging it across the canvas for a brushstroke, I am meticulously masking the shape of the drippy brushstroke and palette-knifing the paint onto the surface. Or, instead of putting brush to canvas to make gestural marks, I'm using an airbrush to simulate that. It's all about making a painting with a level of distance, or filter, between myself and the marks. Also, I recently started adding pieces of acrylic-transfered images into the paintings. It's another spatial element getting thrown in the mix that I think is working pretty well.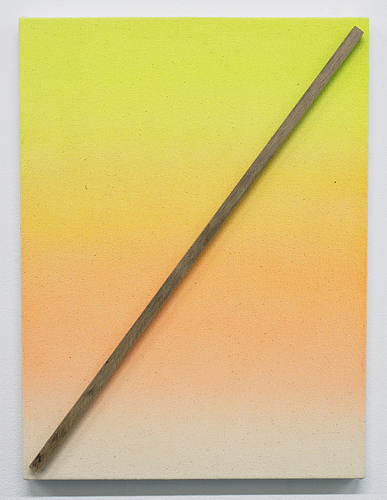 What artists are you interested in right now?  John Mcallister, Ron Ewert, Josh Smith, Ida Ekblad, Ruby Sky Stiler, Andrew Falkowski, Joshua Abelow, Noam Rappaport, Jose Lerma, etc. This list could go on and on.
What are your thoughts about the art scene in Chicago?  Chicago has a great alternative-gallery scene; there are so many of them! I think the city is very dialogue-driven, instead of being driven by the market. This is a double-edged sword; on one hand it gives a lot of freedom for artists and spaces to get creative and ambitious, but on the other hand it makes it nearly impossible to make a living as an artist.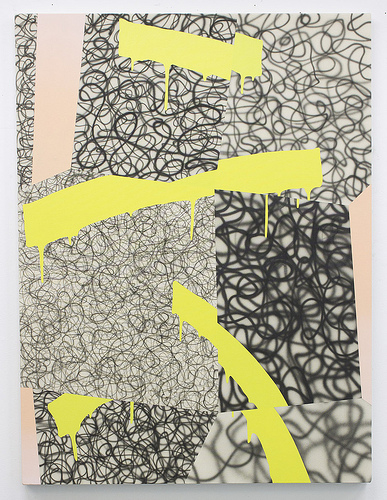 What was the last exhibition you saw that stuck out to you?  Joshua Abelow at Devening Projects + Editions. I'm constantly blown away by Joshua's paintings; his surfaces, color choices, the sense of humor and self-reflexivity, etc. Also, Andrew Falkowski's solo show at Andrew Rafacz gallery was amazing.
What are your plans for the next year?  Finish up with grad school, then hopefully move out to New York or Los Angeles…. we'll see how that pans out.
If you had one wish what would it be?  I wish bananas would stay in the perfect state of ripeness.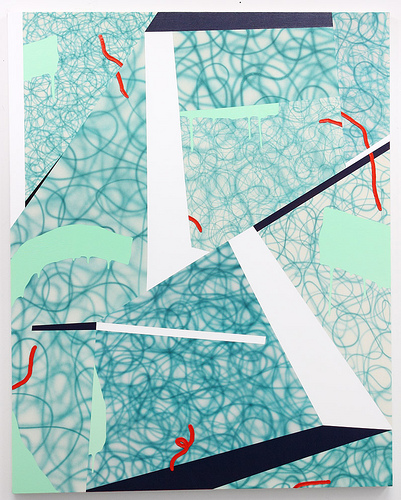 Any current or upcoming shows we should know about?  I have a few coming up. This summer I'm going to have a piece in a show in San Diego that Ryan Travis Christian is curating, then in September I have a solo show at Autumn Space as well as some work in a group show at Peregrine Program.
If you hadn't become an artist, what do you think you'd be doing?  Working as a physicist in some remote part of the world, looking through a giant telescope. On the weekends I'd play poker with Carl Sagan and Arthur C. Clarke.