Jennifer Marman and Daniel Borins have practiced sculpture, installation and media art in Toronto since 2000. Jennifer Marman is a graduate of the University of Western Ontario. Daniel Borins is a graduate of McGill University. Both Marman and Borins are also graduates of the Ontario College of Art and Design in 2001—where they first met and began collaborating together.
Marman & Borins currently have their first solo show in New York with Tierney Gardarin Gallery. In the fall of 2012, they had their second solo show at Georgia Scherman Projects, Toronto. Upcoming public projects include a large-format sculpture for Downsview Subway Station commissioned by the City of Toronto and the Toronto Transit Commission, and a public sculpture commissioned by Waterfront Toronto to mark the opening of the Pan Am/Parapan Am Games in 2015.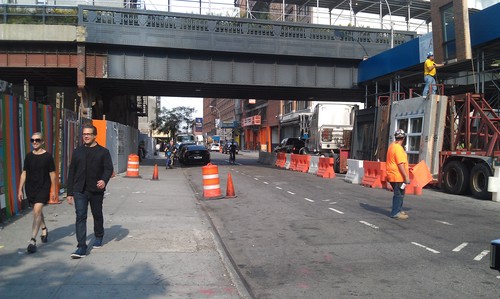 Tell us a little bit about yourself and what you do. We are a collaborative duo based in Toronto, Canada. Our practice is multi-disciplinary and encompasses a variety of media including painting, sculpture, interactive electronic work, site-specific installation, and public art projects. We recently added architecture to the scope of our artistic practice – through a combination of landscape projects and hybrid art and architecture permanent public commissions.
We have been collaborating on projects for over ten years. This year marks one of our most exciting to-date, proving to be a milestone that represents a furthering of our artistic practice on conceptual, formal, and physical levels.
What are some recent, upcoming or current projects you are working on? Opening this week, we have our first solo New York exhibition, Pavilion of the Blind, at Tierney Gardarin Gallery. This show features a large-scale, kinetic sculpture and a series of related paintings touching upon abstraction, representation, formalism, industrial design, surveillance, visuality and viewership. It represents a distillation of our ideas and interests from recent years.
Presently, we also have a major touring institutional exhibition, The Collaborationists, currently on view at the Art Gallery of Hamilton. Our most ambitious project to-date, this exhibition will travel to the Robert McLaughlin Gallery, the Southern Alberta Art Gallery and the Art Gallery of Windsor.
In 2014, Pavilion of the Blind will travel to the Dunlop Museum, we will complete a public art project for the Toronto Transit Commission, we will install a public sculpture for Waterfront Toronto (for the Pan Am Para Pan Am Games in 2015), and we will realize a pedestrian bridge in downtown Toronto that we co-designed with our colleague, James Khamsi.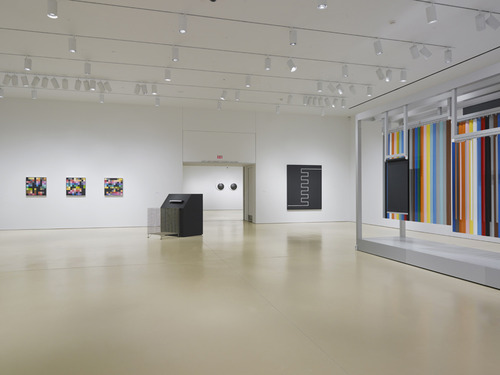 What is one of the bigger challenges you and/or other artists are struggling with these days and -how do you see it developing? We cannot really speak for other artists, but if we were afforded some observations: we are finding that it currently could be more difficult for younger artists to have a peculiar or different style. Trends in artistic production are forcing a form of visual homogeneity and it seems as if the influence of the Internet and its various channels (which we are participating in here) are both a form of peer recognition and support. But it is also a form of social influence that seems to be leading younger artists to work in similar styles and reinforce current trends. Maybe this is just the nature of digital connectivity, but we would like to know if there could be more curious or subversive styles allowed into the mix. We would hope so.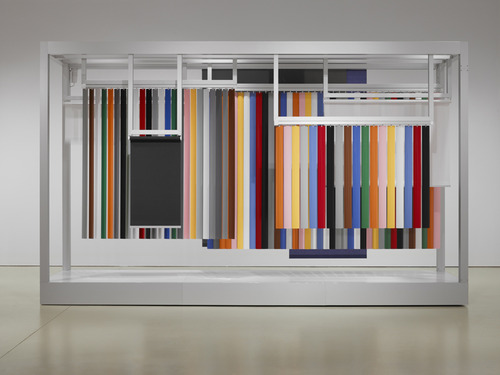 If you had to explain your work to a stranger, what would you say? It is difficult to describe our work in one sentence because we are project based – so there is not one singular idea, or style that we could reduce to a snippet. To put it plainly, we have a multi-faceted base of concerns that we are currently describing as "project art." There is however a consistent methodology in our approach, themes, and interests, such as: power and dominance, subversion, formal codification, and references to modernity to name a few. And then we could say that there is a lot of cross-referencing that we do in our own work, rather than small incremental updates to a singular form. Think of it as an encyclopedic approach that is growing in a non-linear manner.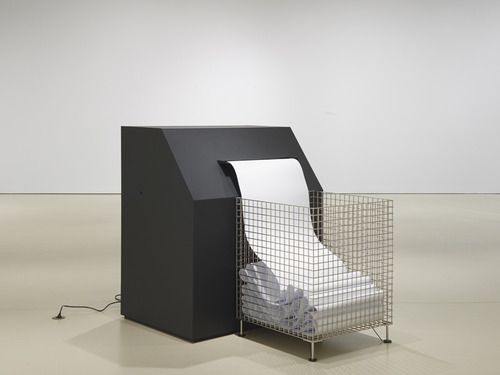 What materials do you use in your work and what is your process like? Our materials range from basic items like canvas and paint to complex equipment like custom circuits and electronic controllers. Our process has matured to a point where we are able to create multiple studies – with us not being forced to execute a finished product immediately. We now spend more preparation time thinking, writing, planning new ideas, and developing new approaches and seeing them through. Early in our collaboration we had discussed the idea of a think tank or an idea lab as the basis for our practice – it didn't completely turn out that way, but it was a good point of departure for us to begin our working method.
How has your work developed within the past year? One of the biggest misconceptions about our work is that is that it is too heterogeneous. However, we just needed a bit more time to lay out some grand plans. We think that in the past year, we have been able to present exhibitions that show a cohesion which may not have been so apparent before. Our touring institutional show, The Collaborationists, currently at the Art Gallery of Hamilton, has allowed us realize many ideas and has allowed us to edit. We have major pieces on show, and their elaborations. Context for smaller works is now reinforced. For example, we feel that Pavilion of the Blind is a distillation of many aspects of our work – it encompasses our multidisciplinary vocabulary while simultaneously dwelling on certain themes yet in a variety of media in a cohesive manner. In a way, we were able to take many ideas further and yet distill those ideas to into strong, poignant, and balanced realizations.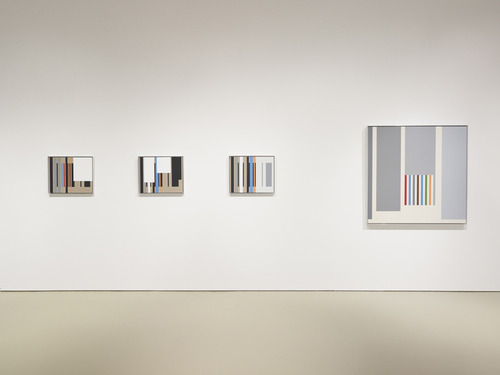 What is your snack/beverage of choice when working in your studio? Our studio is in a bit of an industrial area – so we began several years ago to produce something that we jokingly referred to as the "Studio Diet." It started out as food that could easily be transported and grew into a pretty intense form of health food and vegetarian-like preparations. (Sorry, no pastrami. No brisket.)
DB: Plus, if I did not prepare food, we would probably go hungry. For example, Jennifer might prepare a lunch of four raisins and an almond (and we'd probably split the almond).
The "Studio Diet" also includes a weekly trip to the farmer's market where we get a large jug of natural ginger beer brewed by a group of Caribbean guys at their stall, "Fish Shack."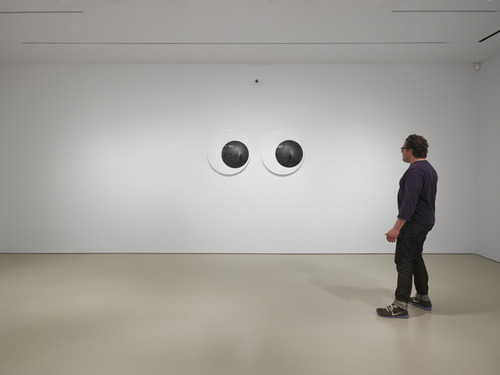 What are you really excited about right now? It's an exciting moment for us. Our most extensive exhibition to date, The Collaborationists, is currently on view at the Art Gallery of Hamilton and we have just completed the installation of our show, Pavilion of the Blind, at Tierney Gardarin Gallery in New York City. With these exhibitions showing in tandem, it has been very enjoyable for us to see the dissemination of our ideas. It feels like the culmination of 3-4 years of work, especially with the publication of a catalog. Plus, it has been great working with Cristin Tierney, Denis Gardarin and the gallery staff to realize this exhibition. It is nice to know that we have the support of the gallery after years of hard work and rumination on specific ideas about form and aesthetics. We feel that our base for some of our ideas has been established with Georgia Scherman Projects in Toronto. Our family and support team has grown and we are excited about that.
Can you share one of the best or worst reactions you have gotten as a result of your work? A critic once wrote, "Take it from a critic, there's nothing to see."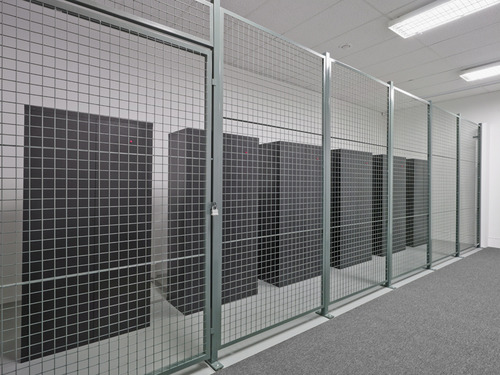 What is your ideal studio situation/workspace? The ideal studio would have southern exposure and is facing east/west. It would be on the ground floor and have a large garage roll-up door and large storage racks up high (most likely equipped with a hydraulic arm). The studio would have a dirty shop space, a medium clean production area, and then a clean office like space that is pristine and white. It would have an immaculately level polished concrete floor with radiant heat (and stylish yet industrial mats for added comfort in the workspace to stand upon). The mostly white space – with grey accents and stainless steel hardware – would be illuminated by a series of frosted skylights. It would have a kitchenette and a separate large slop sink. It would also have an apartment above it, and should somehow straddle the line between city enclave and county outpost. Maybe a vegetable garden on the roof to coincide with the "studio diet." But farming is difficult…You said ideal…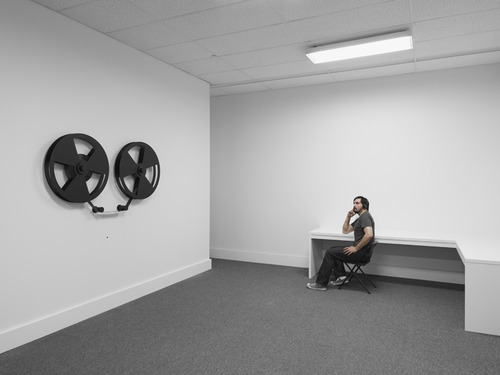 What past trends in art would you like to see be brought back?  It would be fun to bring back re-skilling, manifesto writing, intellectualism, and scale.