Daniel Hojnacki recently received his BA in photography from Columbia College.  He lives and works in Chicago, Illinois.  His work is currently on view in the group show Limits of Photography at the Museum of Contemporary Photography until March 25th.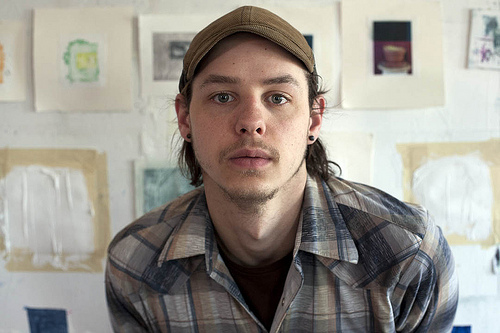 If you had to explain your work to a stranger what would you say?  Mixed-media photography-based work that incorporates a lot of painterly elements, and "I print on a lot of tape."
What materials do you use in your work and what is your process like? I use an obscene amount of tape that is digitally printed upon with the photographic process. With the masking tape I can use the image as a giant sticker pasting it to any surface. I can rework the ink while it sits on the plastic surface, using polyurethane and other spray mediums to print the image multiple times in variations of tonal ranges on multiple layers of scotch tape. Then being able to peel away the layers again to reveal what happens underneath. It becomes a very tedious process that has a lot of exciting elements to it that I'm still developing control of while relying a lot on chance and wishful pondering to push the work further.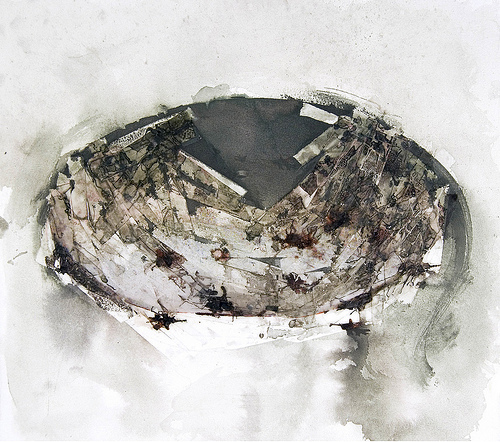 What kinds of things are influencing your work right now? I've been reading about and looking at a lot of abstract painting, sublime, monochrome works of Robert Ryman and Kazamiri Malevich, almost an opposite or distraction from photography. Right now the aspects of time are really influencing things right now. How things natural/unnatural decay, grow and can subtlety un-noticeably change. The nature of illusion in art through materials, I'm most drawn to work that has a magic trick-like process to it. Also a recent obsession with clouds and the movement of light.
How did your interest in art begin? Maybe a photography class in high school, and the books of Dan Eldon and David Hockney, but I can't be all too sure where the interests began. Seems more like it came in many different forms through poetry, painting and music.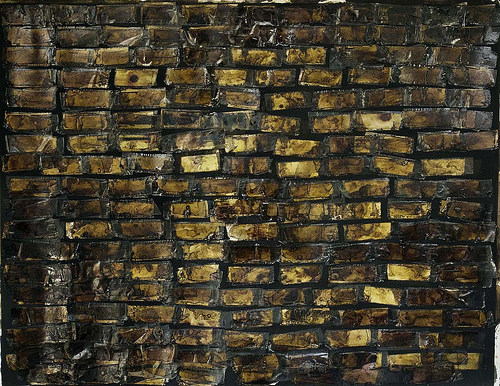 How has your work developed within the past year? It's been a frustrating and exciting year figuring out my materials and why I find them so fascinating. My workflow is carried by one accident or happening which leads to another and another. Things that I want to try and control and it's been that way for the last year or so. Taking it one step at a time in efforts to continue the development of some kind of body of work.
What do you want a viewer to walk away with after seeing your work? Probably the most satisfying thing is "How the hell is he doing that?" I love creating the illusion of what is physical and what is not. Also to give the viewer a sense of temporality in my work through the materials I choose to use. That the photographic process doesn't need to be so permanent or fixed, and how that responds to my choice of imagery.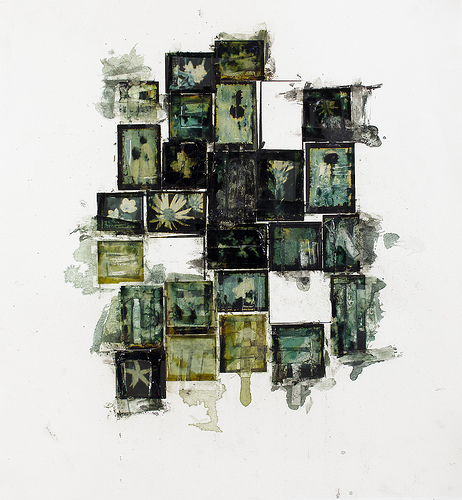 What are some recent, upcoming or current projects you are working on? I am currently exploring a variety of new ways to work with my materials through experiments with the digital printing process of photography and painting. My latest works in progress are tending to maneuver away from the actual photographic image, into abstraction and formal studies of my materials. Also, continuing a project never posted on my website or anywhere outside of a botany class in college, I will be working with the Cumberland Gap National Historic Park in Tennessee this June to continue a documentary project on invasive plants and species I started in 2010.
What artists are you interested in right now? I'm always looking at Spencer Finch, and Anselm Kiefer, Gerhard Richter, the new work of Laura Letinsky, along with a recent interest in the beautiful work of Nazafarin Lotfi, who currently is exhibiting at Tony Wight Gallery here in Chicago.
What was the last exhibition you saw that stuck out to you? First thing that comes to mind was a large exhibition held for still life painter Giorgio Morandi I saw in Italy visiting my brother in February. He has a legacy in Italy, and I'd never saw his work before. It was an enormous collection of beautiful pieces, and it just made me realize how much I've yet to see and learn.
What's your favorite thing about Chicago? My favorite thing about Chicago is the possibilities for artists here, and the large number of such eclectic arts organizations, big and small, that are willing to and want to promote, teach, and exhibit in the arts community at any level of their career.